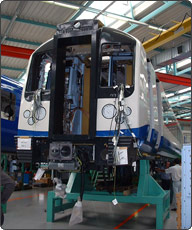 ReRail Consulting Ltd cover the whole life of rolling stock maintenance activities.
We can assist you in bidding for a franchise by providing detailed knowledge of rolling stock maintenance issues for new and existing vehicles, we have supported franchise bids in the UK, Germany and Scandinavia and have?supported a number of the leading operating groups within Europe.
With over 30 years experience of maintenance activities within passenger and freight operations and manufacturer organisations?assistance with the enhancement?of existing systems is based on real world practical experience that can be applied quickly and confidently within the workplace. Our approach is to work with the existing maintenance teams using your teams current knowledge to improve your product.
ReRail Consulting Ltd have worked with a wide range of leading industry suppliers in the fields of IT systems, specialist equipment and facilities design and construction to deliver process improvement across a wide range of fleets.
Our relationship and understanding of the complexity of system implementation ensures that you purchase the best product for your needs and that it introduction improves your service performance.


Selection, implementation & operation of Asset Management Systems for a broad range of customers...

ReRail can provide support across a wide range of issues associated with the maintenance of rolling stock...


We have been involved in the development of eight new maintenance facilities & nine new train fleets...